Sabadell International Business
Export to U.S.A.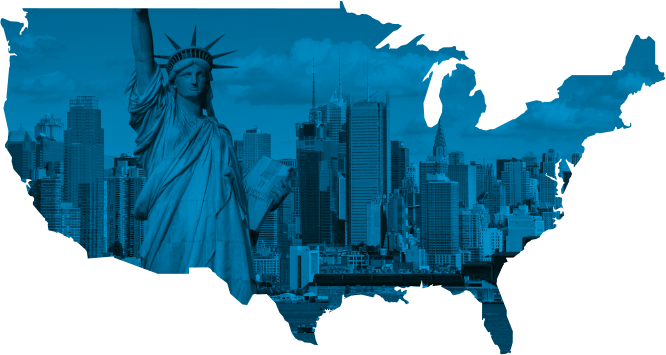 Opportunities for Spanish companies in the U.S.A.
Strong points
This is a market with over 320 million consumers.
The largest economy in the world: 25% of world production.
Legal, juridical and financial platform for the development of new businesses.
Benchmark in corporate transparency and political stability worldwide.
Investments
There are investment opportunities in the following sectors:
Civil engineering, modernisation and expansion of infrastructures.
Transport.
Environment.
Renewable energies.
Hotels.
Food.
Fashion.
Weaknesses
Level of competition.
Maturity of the market in certain sectors.
Prospects
Moderate growth of the economy in the short and medium term.
The prospects in the energy and infrastructure sectors nevertheless have great potential for growth in the short, medium and long term.
Banco Sabadell in the U.S.A.
Experience
Banco Sabadell started operating in the U.S.A. in 1993 when it opened an international branch in Miami, Florida.
Banco Sabadell currently offers financial solutions via its Corporate Banking, Private Banking, Investments Management and Domestic Banking units, through its international branch in Miami, as well as its representative office in New York. Banco Sabadell started to operate in New York in mid- 2012 with the main aim of financing projects in the country's energy and infrastructure sectors.
Services
Banco Sabadell has a branch and a representative office in New York, which it uses to offer a wide range of complementary services to Spanish companies and their executives.
Bound for the U.S.A.: a land of opportunities
Business structure in U.S.A.
Incorporating a foreign company
Branch
Branch of a foreign company without its own legal personality.
It has certain operating limitations. It must be a newly incorporated company and not the parent company, otherwise the worldwide assets of the parent company would be exposed to U.S. taxation. It must keep suitable books and records to clearly show the tax income of the branch
It is advisable to seek the advice and support of a local lawyer
Incorporating an American business
Subject to the laws of the state in which this is established.
There are three main types of companies:
Sole proprietorship
The simplest form of company: The owner/entrepreneur and their business are the same legal entity and personality, liable for all the company's obligations.
Partnership
When 2 or more individuals are the owners of the business
Liability in respect of the business may be limited or unlimited.
Corporation
This is a legal entity independent from its shareholders. There are several forms depending on the capital paid up or its obligations and/or tax advantages. These are split into:
CORPORATION C
similar to a Spanish S.A. or PLC corporation, paying taxes on the corporate level and its shareholders do not need to be U.S. citizens or residents.
CORPORATION S
similar to a Spanish S.A. or PLC corporation, but does not pay taxes on the corporate level. This is a pass-through.
GENERAL PARTNERSHIP
similar to a Spanish sociedad colectiva.
LIMITED PARTNERSHIP
Similar to a sociedad comanditaria.
LIMITED LIABILITY COMPANY (LLC)
similar to a Spanish sociedad de responsabilidad limitada.
Joint Venture with a partner providing in-depth knowledge of the local market or a well-established contacts network is a usual means of access for foreign companies.
Payment methods in U.S.A.
Collection
Exports to the U.S.A.
The sector of exports to the U.S.A. is an efficient and well-established area. Banking operations for exports to the U.S.A. are managed very efficiently ofrom the Banco Sabadell branch in Miami.
Documentary Credit:
means the seller can guarantee collection of payment prior to shipping the goods.
Collection:
collection management of trade documents with the buyer by a bank in the U.S.A. These are usually remittances with sight draft or payment.
Payment
Imports from the U.S.A.
An efficient and well-consolidated sector covering all operations:documentary credits, import remittances, sight payments, etc.
Documentary Credit: 
a bank payment promise conditional on submitting accrediting documents.
Import remittance: 
collection management of trade documents with the purchaser by the Spanish bank.
Simple transfer:
a common means of payment and collection
International negotiation protocol in U.S.A.
Punctuality is taken seriously
It is common to have business meetings over lunch
Business breakfasts can start as early as 7a.m.
Company gifts are not given by law. Small gifts are accepted over the Christmas season.
Negotiations and dealings generally go through fairly quickly in comparison to the time this takes in other countries
A business meeting may start with chat about trivial subjects, as often occurs in Spain.
Contact
Representative office in NY
1, Rockefeller Plaza
14th Floor
10020 Nueva York
Tel. (+1) 212 9012370
Contact