Sabadell International Business
Export to United Arab Emirates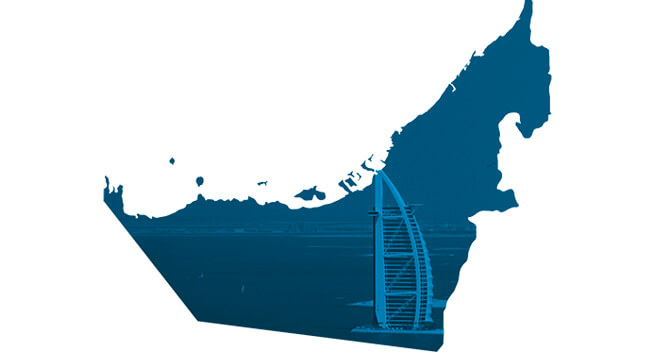 Opportunities for Spanish companies in the United Arab Emirates
Strong points
Excellent geographic location.
One of the countries with the greatest political security and stability in the region.
Major funds of sovereign wealth.
Flexible, inexpensive labour market.
Growing internal and regional market.
Free flow of capitals.
Low taxation.
Many building and consulting projects in the tender phase
Growing economic interest of Spanish companies over recent years, which has led to greater presence of these in the country.

Weaknesses
Some legal-economic opacity
Excessive bureaucracy in administrative processes.
Political crisis in some neighbouring countries
Investments
There are opportunities in:
Civil engineering, modernisation and extension of infrastructures.
Hotel and restaurant sector.
Transport.
Food.
Chemical sector.
Environmental sector (renewable energies).
There are over 40 Free Zones where businesses can be established, specialising in different economic sectors or multisector areas. The most important of these is the Free Zone of Jebel Ali in Dubai.

Prospects
The measures adopted by the government with the intention of liberalising the market and diversifying the country's economy have encouraged foreign investment, which has led to GDP growth rates of over 5% over the recent years.
The IMF projection for the coming years is for growth of over 3%.
Banco Sabadell in the UAE
Experience
Via its representative office in Dubai, the main financial and services city of the United Arab Emirates, Banco Sabadell provides extensive knowledge of the region as the first Spanish bank to establish itself in the Persian Gulf area. BS has correspondence relations with most of the financial institutions in each country, since it has been operating in the area constantly for over two decades, first in Beirut and now in Dubai. It also has business lines with local banks to facilitate foreign trade operations for Spanish companies.
Services
Introduction of Spanish companies to the local market and banks.
Advice on many financial products: documentary credits, documentary remittances, collateral and guarantees, international reverse
factoring, risk hedging….
Support for projects and investments in the UAE.
Constant contact with Spanish companies, local companies, agents, and their customers.
Transaction monitoring.
Business structure in United Arab Emirates
Setting up a foreign business:
As a local company:
One has to have a local partner from the Emirates, who will also have to own at least 51% of the share capital. There are several types of companies, although the most common one for foreigners is the LLC (Limited Liability Company).
Establishing a branch office:
In this case 100% of the ownership can be in foreign hands, although it will always be necessary to have a sponsor or local agent (engaged in bureaucratic tasks).
There are three types of branches:
Branch Office (business activity).
Consultancy Office (professional activity).
Representative Office or Liaison Office (cannot carry out commercial activity but can indeed promote and market its products).
Establishing in a Free Zone
Free zones have their own regulations. Companies with their own legal personality can be set up in these with no need for a local partner or agent, as the free zone itself acts in this status (meaning that the investor controls 100% of the capital).
A very good option for foreign companies that do not need to have a base in the country and who cover the whole Middle East and control 100% of the property.
Payment methods in United Arab Emirates
Collection
Exports to the UAE
Documentary Credit:
A bank commitment to pay against accreditation of export documents. This is a very common means of payment in the UAE and in the region. It is the safest method for exporting goods to the UAE.
Collection:
this involves the collection management of trade documents with the buyer by a local bank. It is more flexible and less costly than a documentary credit, although it does not entail any guarantee of collection. In general, these are documentary remittances with payment by sight drafts.
Transfer:
using the network of BS correspondents in the region. This is the least secure means of payment, so it is essential to know the importer/buyer well.
Payment
Imports from the UAE
Documentary Credit:
a bank commitment to pay against accreditation of export documents, and subject to internationally accepted CCI rules.
Import remittance:
collection management of commercial documents with the buyer by the Spanish bank.
Reverse factoring: 
financing without recourse in favour of foreign suppliers.
Advance payment is made to the supplier prior to the due date of the invoices, ruling out the risk of non- payment for sales, working out in the benefit of business relations between the Spanish importer and the UAE supplier
Simple transfer:
A common means of payment and collection
International negotiation protocol in United Arab Emirates
Personal, lasting relations are absolutely vital to create satisfactory business bonds in the long term.
Arabs are great negotiators and demanding as regards quality-price for the products and/or services they are offered.
It is essential to show respect for the customs, religion and culture of the country.
It is not advisable to talk about politics or make value judgements on this matter.
English is extremely widespread in the country, but relations may be improved by knowing some Arabic expressions.
Patience is needed in negotiations, not looking in a hurry or getting nervous in the process
Contact
United Arab Emirates
Hassanicor Building
Ofic.104, 1st Floor
Sheikh Zayed Road
Al Barsha First - Dubai
Tel. (+971) 43996860
Contact