Sabadell International Business
Export to Singapore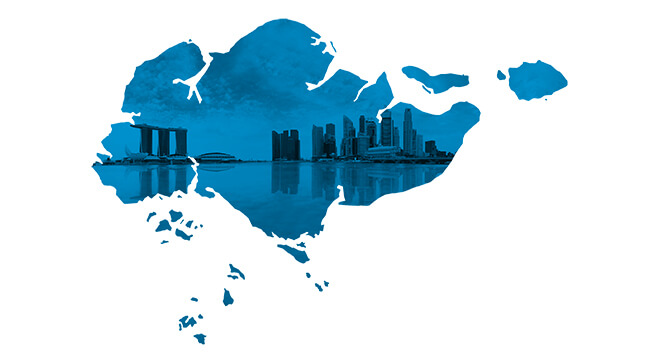 Opportunities for Spanish companies in Singapore
Strong points
It is extremely easy to incorporate companies and do business.
This is a strategic country in the ASEAN group (logistics, financial, technology and business centre). The main ASEAN countries are: Singapore, Vietnam, Malaysia, Indonesia and Thailand.
Sound, consolidated, transparent and efficient legal system.
Political and economic stability.
Excellent infrastructure and its population has a high education and training level.
Weaknesses
Limitation on physical space and population growth.
Vulnerable to external economic shocks.
High costs with a tendency to drop in competitiveness.
Some restrictions to granting work permits and quotas for new permanent residents.
Investments
Singapore is one of the main beneficiaries of foreign investments in Asia, and a good deal of these have been industrial investments.
Opportunities connected with fine chemicals and petrochemicals, the pharmaceutical sector and biotechnology, medical industry, services…
Right to transfer and repatriate in currencies, capital, profit, dividends, interest, loan repayments, royalties…
Incentives for foreign investment for high-added value sectors and research development.
Prospects
Stability of the SGD.
The areas of the knowledge economy, high added value and development will be a priority in both the industrial and the service sector .
FTA agreement between Singapore and the EU: pending ratification by the EU Parliament (2018). Implementation of FTA in 2019.
Banco Sabadell in Singapore
Experience
Banco Sabadell's relations with Singapore banks date back to the 1980s.
Over this time, close, sound bonds with all the banks in Singapore have been built up, thus covering the needs of Spanish exporters and investors.
The regional office of Banco Sabadell in Singapore was set up in 1990 and has enabled it to work in close cooperation with the market and the other countries in the region. The Singapore branch has consequently strengthened its capacity to assist and advise companies, investors, importers and exporters and is becoming well known in the country's own financial and economic community.
Services
Banco Sabadell in Singapore:
Quality personalised service for Spanish companies in their export and investment work in this country.
Commercial advice on the market, local banking and a wide range of financial products.
Monitoring operations, projects and competitive tenders
Business structure in Singapore
Incorporating a foreign company
Representative Office
Its only business must be the management of the company's interests or those of its subsidiaries. It is not allowed to engage in business or any operations entailing income. Unlimited liability. The application may be submitted through the IES (www.iesingapore.gov.sg).
Branch
100% parent owned. This is only advisable for very specific cases (for 100% owned by the parent company.
This is only advisable in highly specific cases, for example, for tenders in infrastructures requiring this. The parent company takes on all the branch's obligations and is more complicated to run than a private limited company (Pte Ltd). This requires two persons in charge, resident in Singapore. The business done has to be the same as the parent company's. Unlimited Liability. The tax system applied is that of a non-resident company (it is not eligible for local tax rebates).
Singapore has a generally acknowledged sound and efficient legal system
Incorporating a business under Singapore law
Limited Liability Company
In the form of a private limited company Pte Ltd (Private Limited).
Partners: at least one. This can be 100% foreign (natural or legal).
Minimum capital of one share and capital paid up in accordance with the agreement between the founder members
One of the managers has to be resident in Singapore (but can be foreign).
Can perform all kinds of business except for financial and insurance
Joint venture
This is a very common form for doing business in both Singapore and the rest of Asia.
There is an arbitration tribunal
It must have the legal form of a private limited company (Pte Ltd).
Payment methods in Singapore
Exports to Singapore
Documentary Credit:
this gives the seller the security of collecting payment before the goods are shipped. There is an option of financing the payer in Singapore (importer).
Collection:
collection management of commercial documents with the purchaser by a bank in Singapore, usually by means of a sight draft or payment.
Guarantees for advance payment:
performance bonds, deposits and also for regular transactions or capital goods
Forfaiting and factoring.
Payment
Imports from Singapore
Documentary Credit:
bank commitment to pay, on condition that the documents accrediting export are submitted.
Import remittance:
collection management of commercial documents with the purchaser by the Spanish bank.
Collateral.
Simple transfer:
this is a common form of payment and collection
International negotiation protocol in Singapore
It is highly important to form relations and strive to maintain these
Regular visits and following these up
Offering a high standard of after-sales technical service (especially for exporters of equipment and machinery, industrial supplies, etc.)
Smooth negotiations
Public tenders are transparent and open (for infrastructures, it is vital to have a direct presence in Singapore).
It is important to have a local agent
Singapore people are easy to get on with and are usually well educated and technically trained.
Contact
Singapore
Keck Seng Tower 133, Cecil Street, 09-01 A
069535 - Singapore
Tel. (+65) 6224 27 07
Contact