Sabadell International Business
Export to Saudi Arabia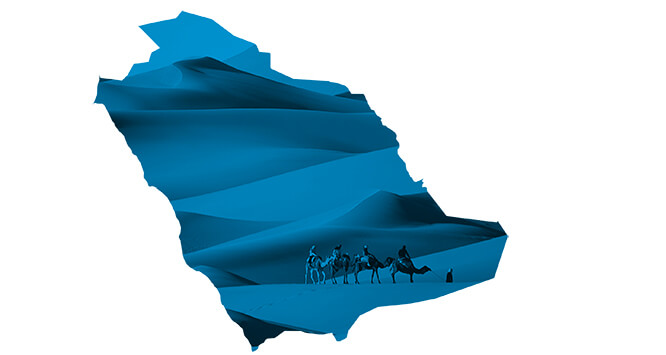 Opportunities for Spanish companies in Saudi Arabia
Strong points
The centre of Islamic culture and main Middle East market for population and GDP thanks to its enormous oil reserves.
Important industrialisation stage.
The Government is promoting an investment environment favourable for foreign capital.
It is in the process of developing infrastructures.
Great opportunities for large corporations, SMEs, private investors, management, traders and salary-earning employees.
Favourable climate for business with Spain.
Weaknesses
There are no customs-free areas.
Political crisis in some neighbouring countries.
The different royal families play a major role in business.
Excessive bureaucracy in administrative formalities.
For imported products, it is compulsory to use English and Arabic on labels.
Investments
There are many sectors with great opportunities. Spanish companies can access this market through franchises, direct investment, participation in privatisations or along with a local partner, the latter being of key importance for reaching the Administration and for facilitating contact with Saudi companies and the royal family.
Prospects
Roughly half of its GDP comes from energy businesses controlled by the government, and representing over 90% of exports.
Exchange rate control has been eliminated over the last few years.
Banco Sabadell in the Middle East
Experience
Banco Sabadell has a branch in Dubai, the main financial and service city in the United Arab Emirates..
We have great knowledge of the region, through being the first Spanish bank to become established in the Persian Gulf zone. Banco Sabadell has correspondent relations with most of the financial institutions in each country, as it has been working in the zone for over two decades, first in Beirut and now in Dubai. It also has extensive business lines with local banks to facilitate Spanish companies' foreign trade operations.
Services
Introducing Spanish companies to the market and local banks. Advice on a wide range of financial products: – documentary credits, documentary remittances, collateral and guarantees, international reverse factoring, risk hedging.
Support for projects and investments.
Ongoing contact with Spanish companies, local companies, agents or their customers.
Monitoring transactions
Business structure in Saudi Arabia
Representation and agency
Commercial distribution is reserved only for companies which are 100% Saudi Arabian and for local citizens. Foreign companies that work in these activities must use Saudi Arabian distributors or agents.
These have to register any distribution agreements in the Agencies Registry of the Ministry of Commerce. Both arbitration and the Board of Claims consider Sharia (Quranic case law) as the only applicable law.
Types of companies
The Corporations Law is the main regulation that governs companies in Saudi Arabia. Foreign investors may set up offices and run businesses under the following forms:
Limited liability company, branch and franchise.
Public limited companies or corporations are seldom found. At present the average time needed to incorporate a company in Saudi Arabia is roughly 30 days.
Joint ventures, local partners
Foreign private investors can own 100% of the capital in most economic sectors, but this one continues to be the most usual option, because of the knowledge of the local partner.
It must have from 2 to 50 shareholders and be managed and represented by one or more directors. There is no board of directors, and; shareholders generally specify a governing body in the Articles of Association. They require an auditor and a control board (if there are more than 20 shareholders).
There has been a major liberalisation of imports, thanks to the reduction of customs duties.
Payment methods in Saudi Arabia
Collection
Exports to Saudi Arabia
Documentary Credit:
a bank promise to pay payable on submission of proof of export documents. This is a commonly used method of payment in Saudi Arabia. It is the safest method for exporting goods to the region.
Collection:
collection management of trade documents with the buyer by the local bank. This does not guarantee collection.
Transfer:
this is the most insecure means of payment, for which reason sound knowledge of the importer/purchaser is required.
Payment
Imports from Saudi Arabia
Documentary Credit:
a bank promise to pay payable on submission of proof of accrediting documents. Subject to internationally accepted ICC rules.
Import remittance:
collection management of commercial documents with buyer by the Spanish bank.
Reverse factoring:
financing without recourse for foreign suppliers.
Simple transfer:
commonly-used payment and collection method.
International negotiation protocol in Saudi Arabia
It important to spend time on establishing personal relations. Saudi Arabians weigh up who they are dealing with before getting into negotiations more strictly speaking.
To choose the best agent or partner, information has to be sought from the banks, commercial services of embassies, or other foreign companies operating in the country.
Their assertions are never clear. A categorical "yes" should be interpreted as "possibly"
Arabs are excellent negotiators and demanding as to quality-price for the products or services they are offered.
It is vital to show respect for the customs, religion and culture of the country.
Patience in negotiations and never look hurried or nervous during these.
Contact
United Arab Emirates
Hassanicor Building
Ofic.104, 1st Floor
Sheikh Zayed Road
Al Barsha First - Dubai
Tel. (+971) 43996860
Contact