Sabadell International Business
Export to Malaysia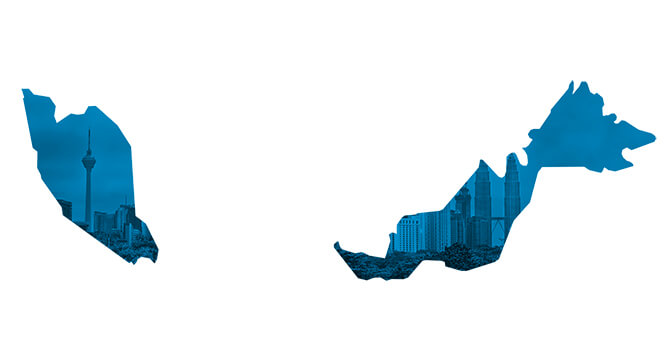 Opportunities for Spanish companies in Malaysia
Strong points
After Singapore, Malaysia is the most highly-developed country in the ASEAN region.
Significant increase in the middle class, with greater internal demand.
Has a great deal of natural resources
Solid financial system.
Weaknesses
Supply of skilled labour and professional positions under level of demand.
Increasing production costs.
Productivity tending to drop. A programme of reforms will be needed to make this grow.
Economic liberalisation reforms pending materialisation.
Investments
Opportunities involving infrastructures, industrial supplies, chemical products, electronics sector and consumer products.
Facilities to transfer and repatriate currencies, capital, profits, dividends, interest, loan repayments, royalties, etc.
Incentives for foreign investment and restrictions in some sectors.
Special economic areas and customs depots available.
Malaysia and the EU have been in negotiations (since 2010) for establishing a free trade area.
Prospects
Good growth prospects in the long term
Major public programme of investment in new infrastructures, especially in the railway sector (Singapore and Kuala Lumpur high- speed project and projects for new underground railway lines).
FTA Malaysia & UE agreement, in the final stage of negotiations.
Banco Sabadell in Malaysia
Experience
Banco Sabadell's relationship with the Malaysian banking system dates back to the early 1980s.
Over all this time, a close and firm relationship was built up with the majority of the banks in Malaysia, thus covering the needs of Spanish exporters.
The proximity of Banco Sabadell's regional office in Singapore, with a presence in the country since 1990, has allowed intense collaboration to be developed in this market with both public and private sectors.
Banco Sabadell in Singapore has also strengthened its capacity for accompanying and advising companies, investors, importers and exporters in Malaysia, becoming well-known among the financial and economic community in the country itself.
Services
Personalised quality service meant for Spanish companies.
Commercial advice on the market, on local banking and a wide range of financial products.
Monitoring operations, projects and and tenders
Advice and corporate financial structuring.
Business structure in Malaysia
Incorporating a foreign company
Representative Office
Can only work in managing the interests of the company or its subsidiaries. It is not allowed to carry out any business or transactions entailing earnings.
Branch
It is only applicable for very specific cases (such as tenders in infrastructures that require this).The parent company takes on all the obligations of the branch. These are more complicated to run than limited liability or public limited companies.
Incorporating a Malaysian company
Mercantile laws and regulations in Malaysia follow the British tradition and there is consequently some flexibility for reaching partnership agreements.
Limited liability company
The form is that of the limited company by shares, similar to a public limited company. The capital can be wholly foreign (natural person or legal entity). There are restrictions in some sectors. There have to be at least two administrators resident in the country.
Joint venture
This is a very common way of doing business, requiring a Malaysian partner. They are not very widespread in the service sector because there are restrictions on foreign investment. It must have the legal form of a limited company by shares
Malaysia has a potential for sustainable growth of 5%. Its aim is to reach a per capita income of 15,000 USD in the next 10 years.
Payment methods in Malaysia
Collection
Exports to Malaysia
Documentary Credit:
means the seller has a guarantee of collecting payment before shipping the goods. Option of financing the Malaysian payer (importer).
Collections:
collection management of commercial documents with the purchaser by the Malaysian bank, usually with a sight draft or payment.
Advance payment:
only authorised companies can make these, if they meet certain conditions.
Guarantees for advance payment:
performance bonds, deposits and also for regular transactions or capital goods.
Forfaiting:
discounting promissory notes or export L/Cs with no recourse.
PPP type financing for public projects in infrastructures and others.
Payment
Imports from Malaysia
Documentary Credit:
bank commitment to pay conditional on supplying the documents accrediting export.
Import remittance:
collection management of commercial documents with the buyer by the Spanish bank.
Collateral.
Simple transfer:
common means of payment and collection
International negotiation protocol in Malaysia
It is very important to establish a relationship and know how to maintain it.
Regular visits and follow-ups.
Offer a high-level technical aftersales service (especially for exporters of equipment and machinery, industrial supplies, etc.).
Flexible negotiations, always seeking mutual benefit.
It is important to have access to a local agent.
Carrying out business negotiations in Malaysia is relatively simple.
It is vital to have the support of an expert legal adviser in Malaysia.
Contact
Singapore
Keck Seng Tower 133, Cecil Street, 09-01 A
069535 - Singapore
Tel. (+65) 6224 27 07
Contact