Sabadell International Business
Export to France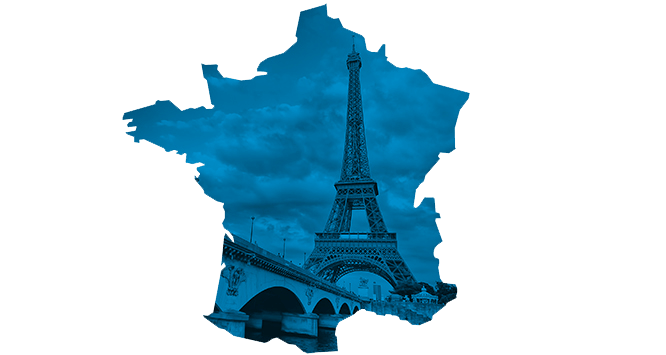 Opportunities for Spanish companies in France
Strong points
Both countries belong to the European Union, which is a guarantee of free trade, free circulation and also the same currency.
Top tourist destination in the world.
Skilled labour.
Weaknesses
Need for structural reforms.
Investments
A major increase in investments in the production of food products is expected.
Prospects
Prospects for growth of the GDP are expected to turn upwards.
Good prospects for the building sector.
Banco Sabadell in France
Experience
Banco Sabadell opened its branch in France in 1987. Today it has a branch in Paris and an agency in Hendaye providing a wide range of bank services for companies.
In 2009 Banco Sabadell became a benchmark in support for the promotion and development of renewable energies in the country.
Banco Sabadell France currently finances over 100 MW of the wind power produced and sold in France
Services
Opening current accounts, management of cash and deposits.
Support for Spanish companies wishing to become established in France and/or sell their products or services on the French market.
Foreign trade operations.
Financing of the investment and of working capital through different financial products.
Structured financing (financing acquisitions, infrastructures, renewable energy projects).
Issue of bonds.
Advice on mergers and acquisitions, demergers.
Business structure in France
Incorporating a foreign company
Representative agency and office
Can only work within the sphere of its parent company's corporate purpose (market surveys, studies, etc.). Cannot obtain earnings.
Branch

Profits are taxable in France, but in unlike the subsidiary, the branch is not considered resident in the country, It will therefore not be able to benefit from the different tax incentives that France offers. The branch must have a separate accounting system to the parent company
Subsidiary

Legal personality independent from the parent company. Its tax status is the same as that of a French company since this is considered to be an organisation resident in France.
Incorporating a French Company
Limited Liability company (SARL):
From 2 to 100 partners.
Minimum contribution of 1000 €. El 20% must be in cash.
The partners are only liable for the contributions made by them.
Public Limited Company
At least 7 shareholders
Contribution not under 37,000 €.
Run by a board of directors with from 3 to 18 members.
Partners' responsibility limited to their contributions
EIRL
Individual businessperson with limited liability
EURL
Single partner company with limited liability
SAS
Simplified share company.
SASU
Unified simplified share company
SNC
General partnership.
Payment methods in France
Collection
Exports to France
LCR (lettre de change relevé):  improves collection of bills drawn in France.
International Cash pooling, international reverse factoring.
Issue and reissue of guarantees and SBLC standby L/C.
Cheques, transfers and electronic payment collections: collection management of cheques, reception of transfers from banking organisations and SEPA
Export remittances: collection management of documents involved in your export operations at the purchaser's bank.
Export documentary credit: means the seller can have a guarantee of collection prior to shipping the goods.
Payment
Imports from France
Documentary credit:
gives you, as importer, the security of your payment obligation only arising if the seller has complied with your terms and conditions as given in the credit.
Import remittance
International reverse factoring.
International negotiation protocol in France
Since the atmosphere is formal and reserved, it is not usual practice to ask questions or to deal with matters considered as being confidential.
The price is the last aspect discussed.
The technique of haggling over prices is not considered very proper by French society.
It is indispensable to treat people formally (using "vous") or address them as "Mr" or "Mrs" and their.
Swapping business cards is usual practice at the first meeting.
Negotiations go slowly: the negotiators always attempt to ensure that it is the other party which brings up the issues to be discussed.