Sabadell International Business
Export to Dominican Republic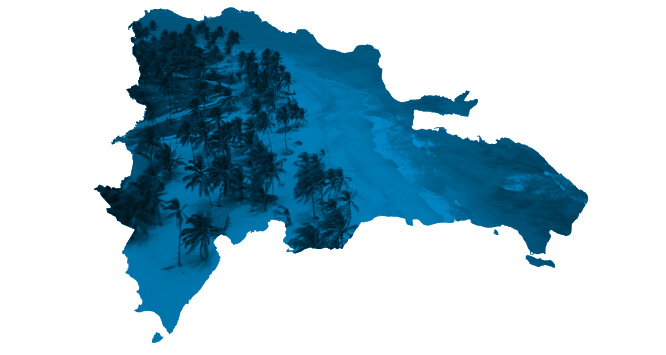 Opportunities for the Spanish company in the Dominican Republic
Strong points
Growing and dynamic economy
Geographical location
Wealth in natural resources
Low inflation rate as compared with other countries in the region
Stable exchange rate
Excellent platform for exporting to the USA
Weaknesses
Poor energy sector
Structural defici
High level of debt
Poverty
Investments
Investment is significantly growing in the following sectors:
Tourism
Mining
Building
Energy
Prospects
Economic stability
Prospects of growth of GDP
Positive impact due to drop in oil prices.
Rising numbers of tourists, remittances of emigrants and exports.
Banco Sabadell in the Dominican Republic
Experience
Banco Sabadell has been in the Dominican Republic since 1998
The representative office in Santo Domingo offers you a team which will help you with professionalism and dedication , giving you individual and personalised assistance.
Our office combines in–depth knowledge of the specific features of the Dominican market with that of the local financial market, Spanish bodies working in the Dominican Republic and public institutions.
Services
Guidance and introduction to the local market for the Spanish company
Advice on a wide range of financial products
Regular contact with Spanish and local companies from many different sectors and with public and private agents in the country
Follow-up of operations
Business structure in Dominican Republic
Incorporating a foreign company
Representative office
Focusses only on managing interests of the company or its subsidiaries. It is not allowed to do business or perform any transactions entailing income. It has to obtain authorisation from the Dominican Companies Registry
Incorporating a Dominican company
The Dominican Republic recognises and regulates several types of companies:
General partnerships:
An external company doing commercial or civil business under a unified company name, whose partners answer for any debts which cannot be met with share capital. In this type of company some partners do not provide capital, only work, these being known as an "industrial partners ".
Closed limited partnerships: 
Personal partnership-type companies characterised by the coexistence of general partners, answering for company debts with no limits and taking part in the company's management, and limited or silent partners, who do not participate in the management and whose liability is limited to the capital contributed to the company.
Limited joint-stock partnerships:  
These are companies consisting of one or several active partners, who will have the status of entrepreneurs and be liable on an unlimited and joint and several basis for corporate debts, and of limited or silent partners, with shareholder status and only liable for losses in proportion to their contributions.
Limited Liability Companies (SRL):
Trading companies in which liability is limited to the capital paid in.
Public limited companies (SA):
Trading corporations whose owners are given this status by owning stakes in share capital through certificates or shares.
Payment methods in Dominican Republic
Collection
Exports to the Dominican Republic:
Documentary credit:
Gives the seller a guarantee of collecting payment before shipping the goods. This is the safest collection method.
Collection:
Collection management of trade documents with the purchaser by a bank in the Dominican Republic.
Transfer.
Payment
Imports from the Dominican Republic:
Documentary credit:
Bank commitment to pay conditional on submitting documents accrediting the export.
Collections:
Collection management of trade documents.
Simple transfer:
Common payment and collection method
International negotiation protocol in Dominican Republic
Cultural and religious diversity must be taken into account.
English is spoken with some fluency, mainly by the middle, high and business classes.
Good tax and legal advice is required.
Negotiation is intense in the price market.
Contact
Dominican Republic
Gustavo Mejia Ricart Esq. Winston Churchil
Torre Blue Mall - Local P20 - Piso 27
10148 Piantini - Santo Domingo
Tel. (+1829) 893 5550 / (+1829) 893 55511
Contact