Sabadell International Business
Export to Taiwan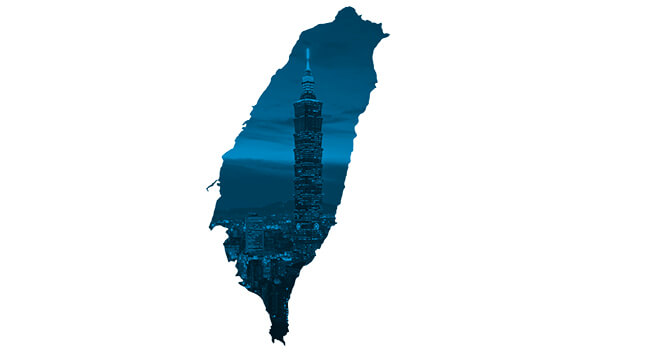 Opportunities for Spanish companies in Taiwan
Strong points
A dynamic economy in which the foreign sector is of great importance
One of the so-called "Asian dragons".
Top investor in continental China.
Specific agreements and preferential treatment in matters involving setting up in China
Centre for channelling transport in the Asia-Pacific region and China
Reliable and sound justice and legal systems. The financial system is open and liberal.
Weaknesses
Excessive dependency on mainland China for the production of certain articles
Fluctuating relations with mainland China with many high and low points that directly affect the value of its currency.
Investments
Consumer goods, agro-food products, fashion, footwear
Building materials
Automobile parts
Infrastructures.
Tourism and leisure.
Prospects
The antagonism between the two main parties in Taiwan is a determining factor in relations with China.
Geostrategic location in Asia that favours its economic positioning.
Close relations with China which, due to their peculiar nature, may undergo disturbances.
Banco Sabadell in Taiwan
Experience
Banco Sabadell has been covering Taiwan from its regional office for the north of Asia based in Shanghai, established in 2005
It has correspondent bank relations with the entire Taiwanese banking system, with which it has excellent relations. Banco Sabadell is recognised as a leading bank with respect to the management of international business linked with trade in Taiwan.
Banco Sabadell has lines of financing for medium and long-term projects granted to Taiwanese banks, and Taiwanese banks have similarly granted extensive lines of financing to Banco Sabadell.
Services
Advice on setting up Spanish companies in Taiwan.
Monitoring import/export operations.
Support for projects and tenders by issuing sureties and guarantees to local banks.
Making the contacts established with local banks available to SMEs.
Business structure in Taiwan
Incorporating up a foreign company
Representative / Liaison Office
These bodies operate and act on behalf of a foreign parent company. They are allowed powers to negotiate prices and represent the parent company, but they cannot carry out any activity that generates earnings. They must be registered at the Department of Trade of the Ministry of the Economy and, although they do not pay taxes, they must also register at the tax office of their district.
Branch
Establishments with permanent presence in Taiwan as an extension of the parent company. There is no minimum capital requirement and they are only taxed on profits generated in Taiwanese territory. They have the same labour and tax obligations as a subsidiary.
Companies
Unlimited company (at least two shareholders).
Limited company (at least one shareholder).
Unlimited company with limited liability shareholders.
Company limited by shares.
Mixed company (joint venture):
An association between foreign and local investors in any of the company forms mentioned.
Incorporating a business in Taiwan
Foreign companies that set up in Taiwan are governed by 2001 legislation, which smoothed out procedures and provided an incentive for investment in the country. The system is actually almost identical to that of Taiwanese companies. Their administrative costs are around 600 euros, depending on the type of company involved. The minimum capital required varies between 12,000 and 24,000 euros.
RESTRICTIONS: certain investments coming from mainland China may require prior authorisation or even be prohibited
Investments connected with defence or national security are not eligible for foreign investment.
Payment methods in Taiwan
Collection
Exports to Taiwan
Documentary Credit:
gives the seller the security of collecting payment prior to shipping the goods. Option for financing the Taiwanese payer (importer). In transactions taking place for the first time in Taiwan it is advisable to start working with LCs.
Collections:
collection management of trade documents with the purchaser by a bank in Taiwan, Usually with sight drafts or payment.
Guarantees for advance payment:
performance bonds, deposits and also for regular operations or for capital goods.
Payment
Imports from Taiwan
Documentary Credit:
bank commitment to pay on condition that the documents accrediting the export are submitted.
Import remittance:
collection management of trade documents with the purchaser by the Spanish bank.
Guarantees.
Simple transfer:
common payment and collection method.
Forfaiting:
discounting promissory notes or export LCs without recourse.
International negotiation protocol in Taiwan
This society is marked by its geographical position as an island, as well as by its historical past. Strongly linked to the Chinese province of Fujian.
The Taiwanese are friendly, open, patient and hospitable people. They are fairly prone to inviting people to their homes quickly. They value a simple, family life.
They speak different Chinese dialects and English is widely- spoken.
The Taiwanese are skilled negotiators, with in-depth knowledge of their business and of international markets.
Do not cross your legs at meetings. Sit upright and try not to make gestures with your hands.
Avoid contact and only shake hands with men. They are not accustomed to kisses on the cheeks.
They appreciate business cards with the details in English on one side, and in Chinese on the other.
Contact
Representative Office in Shanghai
Westgate Mall, room 1605 A
1038, Nanjing West Road
200041 - Shanghái
Tel. (+86) 21 62718347
Contact