Sabadell International Business
Export to Poland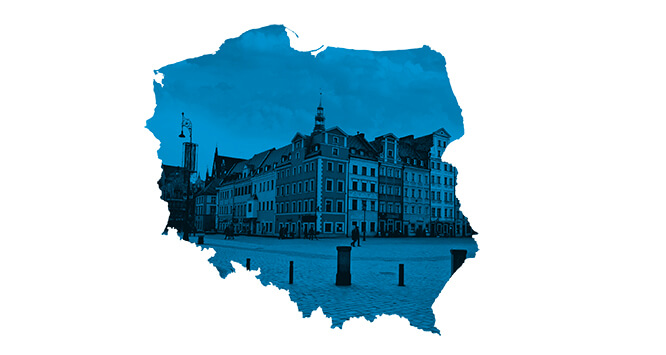 Opportunities for Spanish companies in Poland
Strong points
Market with great potential.
Access to EU funding (72.9 thousand million euros assigned to Poland for the 2014-2020 period).
Stable economic growth and high level of demand.
Human resources
Political stability.
Perfect strategic and logistic location right in the heart of Europe.
Neighbour with 7 countries and access to the Baltic Sea and the Scandinavian markets.
Weaknesses
Bureaucratic rigidity.
Lack of rail and road infrastructure in some areas.
Complex tax system.
Investments
Spanish companies can take advantage of opportunities in the following areas:
Civil engineering, modernisation and extension of transport infrastructures.
Environmental sector.
Energy sector.
Defence sector.
Consumer goods sector.
Prospects
Prospects for growth over 3% a year in the next few years.
The country offers highly favourable conditions for business. The extremely dynamic nature of the economy and the rising purchasing power and interest for quality well- designed products means a wide range of opportunities.
Banco Sabadell in Poland
Experience
Banco Sabadell's relationship with Poland dates back to the early nineties, when its cooperation with the country's main financial institutions was got under way

The Warsaw office offers you a team that will assist you with professionalism and dedication, providing you an individual, personalised service.
Our office combines in-depth knowledge of the particular features of the Polish market and the local financial sector, Spanish bodies working in Poland and public institutions.
Services
Banco Sabadell in Poland:
Access to the market and local banking sector .
Advice on many different financial products: documentary credit, remittances of documents, collateral, guarantees, performance bonds, project pre-financing, risk hedging.
Transaction monitoring.
Networking with the main public and private agents in the country and companies from different sectors
Business structure in Poland
Incorporating a foreign business
Branch
Can only carry out activities forming part of the parent company's corporate purpose. Has to keep accounting records in Polish and abide by local law.
Representative Office 
Their business is limited only to advertising and promoting the parent company. They can carry out market research and explore business opportunities but cannot obtain earnings.
For choosing the form of business and for any legal matters handled in the country it is advisable to make use of a local lawyer.
Incorporating a Polish company
Limited Liability Company
This is the most common legal form.
Partners are not liable for the company's obligations and debts
These are autonomous legal entities.
The incorporation process is fast.
Low share capital required
Public limited company
Has similar features to Spanish "S.A."s.
Requires at least two partners and a minimum initial capital (roughly PLN 100,000).
Joint venture
With a Polish partner providing in-depth knowledge of the local market and a consolidated network of contacts: a common way for foreign companies to get onto the market.
Payment methods in Poland
Collection
Exports to Poland
Documentary Credit: 
means that the seller can ensure payment prior to shipping the goods.
Collection:
collection management of commercial documents with the purchaser by a bank in Poland. These are usually remittances with sight draft or payment.
Advance payment:
often used in the first operations with a new customer.
Payment
Imports from Poland
Documentary Credit:
bank commitment to pay conditional on submitting documents accrediting export.
Import remittance:
collection management of commercial documents with the purchaser by a Spanish bank.
Simple transfer:
a popular and widespread form of payment
International negotiation protocol in Poland
Punctuality is appreciated.
Preambles are cut short at interviews, quickly getting to the point for the interview or meeting.
Dealings are formal. The formal form of address is used with business associates.
Knowledge of languages in Poland is fairly common, but promotion materials and offers should nevertheless be drawn up in Polish.
Follow-up contacts are expected after meetings. Emails expressing your thanks are usually expected.
It is vital to ensure continuous presence in the country or make frequent business trips. In many cases, it is advisable to rely on the collaboration of a local partner.