Sabadell International Business
Export to Brazil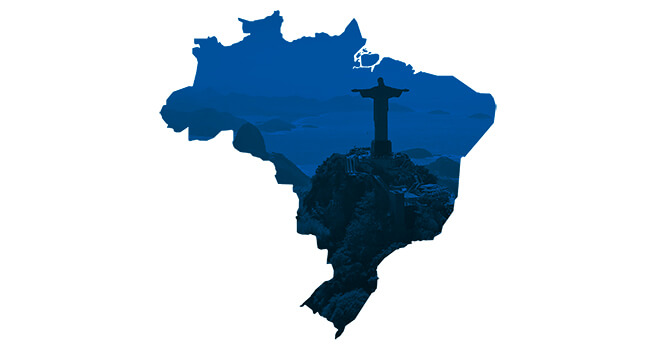 Opportunities for Spanish companies in Brazil
Strong points
Brazil is the leading economy in Latin America.
Its domestic market potential is enormous, with half of its population considered to be middle class.
Democratic and stable government.
Positive macroeconomic indexes thanks to strict policies and control by the government and the Central Bank of Brazil.
Plentiful and diverse natural resources.
The country is receptive to companies and people of Spanish origin.
Weaknesses
The high interest rate has limited domestic investment and slowed down growth.
The justice and tax systems are complex mechanisms with little flexibility.
Major inequality endures in the distribution of income.
Low quality of public services, health, infrastructures and urban safety.
Investments
Opportunities in the oil and gas sector due to the discovery of pre- salt oil fields and deep-water crude extraction, alternative energies, civil engineering, industry, etc..
There are special economic areas with governmental incentives..
Prospects
Prospects for growth in infra- structures, the energy sector and consumer goods.
Banco Sabadell in Brazil
Experience
Banco Sabadell got its activities in Brazil under way over twenty years ago. Since then, it has developed an extensive network of correspondence with the country's financial institutions. This has enabled it to become familiar with the regulatory framework that determines how the financial system works in Brazil.
The representative office has been a reference point for companies interested in developing commercial or investment activities in Brazil. Banco Sabadell has gained recognition and respect on the Brazilian market for its reliability, professionalism, and the quality of its services

Services
Great knowledge of the local market, which enables it to give companies guidance in their first financial dealings in the country.
Qualified advice on commercial operations (export and import) or for direct investment of capital of Spanish companies.
Support for subsidiaries of Spanish companies set up in Brazil, for local companies with investments in Spain and for local companies performing foreign trade operations with Spain.
Business structure in Brazil
Incorporating a foreign company
Branches, agencies or establishments in Brazil set up by foreign companies
Only specific cases may be established, such as banks without business on the Brazilian market, airlines, NGOs, etc., usually with a view to carrying out tender projects by means of a consortium.
The parent company takes on all the obligations. Authorisation from the government is required. Any change in the articles of association must also be approved by the Brazilian government for these to take effect in local organisations.
Incorporating a Brazilian company
Limited Company
At least two partners which can be 100% foreign (natural or legal persons).
There are restrictions in some sectors. There is no minimum company capital; it will depend on the sector and the company's turnover.
Public Limited Company
Same conditions as the Limited Company, although in this case a minimum of 10% of the subscribed shares must be fully paid up at the time of incorporation.
As a general rule there is no requirement for a minimum share capital, but there are sectors with specific requisites, such as banking, insurances, etc.
Eireli
A sole partner, a natural person or legal entity. Min. share capital of 100 salaries equivalent to 93,700 reals (BRL), at the current rate.
Joint venture
This is a very common form for the development of businesses that require a local partner. It can take on the legal form of a general partnership (SCP) or alternatively that of a limited company
It is extremely important to consult a local legal practice due to the complexity of laws and local taxes
Payment methods in Brazil
Collection
Exports to Brazil
Documentary Credit:
bank commitment to pay payable against presentation of documents accrediting the export. This is the most secure method. For a greater guarantee, confirmation can be requested by the Spanish bank.
Bank collection:
collection management of commercial documents with the purchaser by a bank in Brazil. This is more flexible and less costly than documentary credits, but does not mean any guarantee of collection. These are generally remittances with a sight bill of exchange.
Direct collection:
collection management in which the Spanish exporter remits the documents and collects payment directly from the Brazilian importer, which is riskier.
Payment in advance:
the importer pays the Spanish exporter before receiving the documents and goods. This is the option with least risk, but very hard to obtain
Payment
Imports from Brazil
Documentary credit:
bank commitment to pay on condition of documents accrediting the export being submitted
Documentary remittance:
collection management of payment for commercial documents with the buyer by the Spanish bank, without any guarantee of collection. The banks involved deliver the documents to the importer through payment or acceptance of the collection terms.
International negotiation protocol in Brazil
Some business meetings do not begin on time and tend to last longer than necessary.
Avoid using Spanish from the word go, or taking for granted that your liaison is compelled to understand this.
Personal relationships are the key to success in business; try to make them close.
Make appointments and arrange meetings in advance, although last-minute cancellations are very common.
Be patient, since both your liaison and the Administration will need time to make their decisions.
Contact
Brazil
Edificio Faria Lima Premium
Rua Diogo Moreira, 132 7º
andar – conj.707-710 Pinheiros
05423-010 - São Paulo
Tel. (+55) 11 30959266
Contact